Well, it's a statement almost true. There is no such thing as Wiimote for PS3, but this time Logitech almost made it possible. I am talking about Logitech MX Air. It looks like it was crafted from a piece of Playstation 3 (actually, the same black shiny dust atractive material), it works both as a mouse or pointer (wiimote style). It's wireless of course, and it's so easy you ask the same you did on PS3 gamepad: "Is this thing really working on a battery or is it alien technology ?". Installing it on PC was a snap. And the bonus is, is working also with your old mouse. Now i am really happy, i can use my Logitech G5 while working on PC with intensive graphics, and when i move on my secondary screen (nVidia DualView setup on a plasma 42PV600), i can use MX Air with no trouble.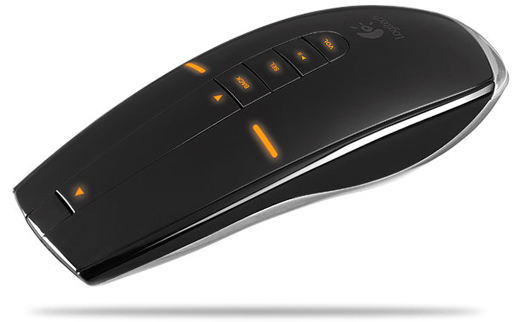 It works exactly as the Wiimote does, except when it sits on a table or something, it becomes a really nice laser powered wireless mouse. The smoothness it's unbelievable for a wireless device. You simply point and click. The charger base is also looking fabulous. The buttons lighten up in some orange/redish nice not-annoying colour. With it's left and right click lights, i can swear it has eyes watching me. The scroll is strange at first, as it is digital, and not using a wheel. It generates some nice sounds when rolling the digital "wheel". There are also buttons for Back, Select, Play/Pause and Volume, Up, Down, Right/Left Click. All are backlighted. It also has a button for On/Off on the backside.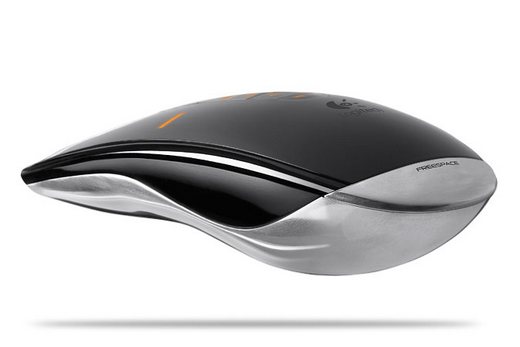 Now, back to PS3 and MX Air. I haven't tested any games (shooters) yet, and hopefully they don't work (i'm a fan of "do it gamepad style"). But in XMB, Internet Browser, Playstation Store, it works flawlessly. Going to test PS3 Linux tommorrow to see if everything goes fine.
 Overall, for such a small review i've done, i would give Logitech MX Air a 9.5 out of 10. It's alien technology. I could drop it to 9 out of 10 because it's too expensive (120 EUR). But it's the perfect remote for a HTPC where a mouse is too annoying to use.
Here are some official facts from Logitech:
Performance
Laser performance: On your desk, enjoy laser-precise tracking and instant response. 
Freespaceâ"¢ motion sensing: In the air, use MX Airâ"¢ to browse and play your favourite media. The sensor transforms hand motions into natural, responsive cursor controls. Adjust volume by waving to the right or left; skip tracks with a flip of the wrist.
Scroll panel: Experience hyper-fast scrolling at the touch of a finger—on your desk or in the air.
Control
Easy control of PC-based entertainment: Take command of your PC-based media with intuitive wave-and-click control—an easier and more natural way to enjoy your favourite media.
Gesture controls: Control playback and volume with hand motions. Adjust volume by waving to the right or left; skip tracks with a flip of the wrist.
Convenience
Li-ion battery: Recharges faster, lasts longer.
2.4 GHz wireless: An operating range of 9 m lets you navigate media from anywhere in the room.
Package Contents
Logitech® MX Airâ"¢ Rechargeable Cordless Air Mouse
Recharging station
Micro-receiver
AC power cord
Logitech® SetPointâ"¢ software CD
Polishing cloth
User guide
3-year limited warranty