Well, sunt un maniac al HiFi-ului, si cred ca e vremea ca "vechiul" meu NAD sa fie inlocuit. Desi nu eram un fan Sony in ceea ce priveste fidelitatea sunetului (in special la speakers si receivers), seria ES m-a tentat dintotdeauna. Dupa ce am trecut in revista cam tot ce s-a lansat mai recent de catre Danon, Yamaha, Onkyo, Pioneer, NAD, Harman Kardon, Marantz si Sony, m-am decis sa fac pasul catre noul model din gama ES de la Sony. Avand un raport pret/calitate imbatabil, Sony STR-DA5300ES mi se pare alegerea perfecta. Read more for specs, pictures and links.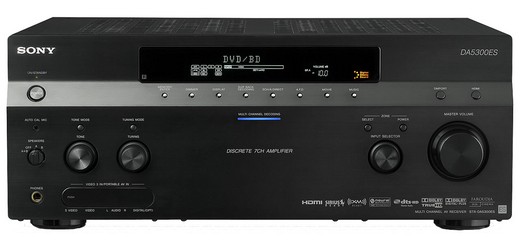 Features:
XMBâ"¢ inspired graphic user interface
Faroudja® DCDi Cinemaâ"¢ Up Scaling Technology
BRAVIA® Theatre Syncâ"¢
DIGITAL MEDIA PORT
120 Watts X 7 Power Amplifier (8 ohms, 20Hz – 20kHz, 0.09% THD)
HDMI "Active Intelligence1" (6 inputs/1 output)
2nd Room HD video distribution via component video
Picture-in-Picture for Monitoring Multi-Zone Output or External Video Source
Optimized for Blu-ray Discâ"¢ and other HD sources3
Accepts x.v.Color (xvYCC) and Deep Color1
Accepts 1080/60p and 24p video signal via HDMI
Accepts 8ch linear PCM, Dolby Digital +, Dolby TrueHD and DTS HD via HDMI3
Video up-scaling to HDMI (up to 1080p) 1
Digital Cinemaâ"¢ Auto Calibration with stereo mic
Sirius® and XM Connect-and- Playâ"¢ Ready4 with Neural 5.1 Surround3
Portable Audio Enhancer
Optimized for Blu-ray DiscTM and Other HD Sources3
The STR-DA5300ES is engineered to be the ideal Blu-ray Disc® A/V receiver, fully compatible with Sony® family of Blu-ray Disc Players. Superior video switching and audio performance ensure seamless compatibility with today's demanding HD sources. The STR-DA5300ES features up to six High Definition Multimedia Interface (HDMIâ"¢) inputs which are capable of accepting resolutions up to 1080p, offering the full video quality that Blu-ray Disc® format can deliver.
Up to 8 channels of Linear PCM audio plus Dolby Labs® (Dolby Digital +/Dolby TrueHD) and dts® (DTS HD
The STR-DA5300ES offers full compatibility with Blu-ray Disc® format's linear PCM (uncompressed) output, producing up to eight channels of "high quality" audio reproduction. The STR-DA5300ES also has the ability to support the latest audio formats from Dolby Labs® (Dolby Digital Plus/Dolby TrueHD) and dts®(DTS HD).
HDMI "Active Intelligence"
The receiver can detect and receive the best possible video and audio signals from all connected devices-making connection and performance as simple as plugging in a single wire. Sony's HDMI "Active Intelligence," produces both audio and video through one HDMI cable.
Faroudja® DCDi Cinemaâ"¢ Chipset for Up Scaling to 1080p
IC processor developed by Faroudja®, and first used by Sony, which will up scale and up convert all video signals (less than 1080p) to 1080p via HDMI1. This chipset corrects image jaggedness; reduces block noise and reproduces true to original colors. The end result is a beautiful and smooth high definition image.
Cross Media Bar Inspired Graphic User Interface
An on-screen menu system that simplifies the most complex operations of an A/V receiver for home theater applications. This advanced menu system incorporates icons, an easy to follow "tree" system and a blending technique so users know exactly where they are amongst the various settings while still watching their main video source (up to 1080i). Enhancements made to this year's menu include access to DIGITAL MEDIA PORT accessories, the ability to assign HDMI inputs and independent A/V sync control for each input. It's simple. Just pick up the remote and whole new experience will be revealed.
HDMI Up Scaling1
Video sources connected via composite, S-video and component cables can not only be up converted to a HDMIâ"¢ video output but can also be up scaled from its native signal to 1080p (i.e. 480i to 1080p) thus minimizing the number of connections needed from the receiver to the television display. HDMI supports resolutions up to 1080p and enables both HD video and uncompressed streaming audio to be transmitted through a single cable.
Down Conversion
Component and S-video sources can be down converted to lower resolution outputs, thus customizing video connectivity to home theater requirements from a single source. Also, both receivers can take HD sources from component video and down convert the signal for use with composite or S-Video ouputs. This is ideal for distributing video through multiple rooms with less wires.
Picture-in-Picture for Monitoring Multi-Zone Output or External Video Source-2
Enjoy the convenience of picture-in-picture capabilities in the ES 7.1 Channel A/V Receiver; another benefit of the Faroudja® DCDi CINEMA chipset. With an additional video input, a customer can connect a baby monitor or security camera and monitor room activity or view a 2nd video source while still watching their main video source.
2nd Room HD via Component Video
Enjoy the convenience and flexibility of distributing high definition content to another room in your home. Ideal for rooms where full size components can not be accommodated. In addition, enjoy your favorite HD programs and movies in another room of your home.
Digital Cinema Auto Calibration-2
An ideal listening experience is only a button away. Simply place the included microphone in your listening position, push a single button and speaker position, distance and delays are automatically calibrated. Sony's Digital Signal Processing uses feedback between the microphone and receiver to optimize sound settings.
Sirius and XM Connect-and-Playâ"¢ Ready4 with Neural Surround
A world of digital radio at your fingertips. Connect the optional antenna for either Sirius and/or XM subscription service and enjoy the variety and quality of digital radio with the superior sound quality of an A/V receiver. In addition to stereo, you can enjoy 5.1 surround broadcasting. XM radio is a satellite radio service that provides pay-for-service radio, analogous to cable television.
Portable Audio Enhancer-2
The ES 7.1 A/V Receivers are ideal for today's portables. A powerful Digital Signal Processor expands the quality of sound from any connected device. Simplified front-side audio and video connections make it easy to play portables through the receiver.
HDMIâ"¢ Output with 720P/1080i and 1080p upscaling of DVD Media4
Reads the data on a standard DVD at 480P and maximizes the video resolution to best fit your HDMI compatible TV. The STR-DA5300ES takes it a step further and allows for DVD Media to be upscaled to 1080p. Overall, this allows for you to enjoy the best in video performance while delivering digital video and audio over one simple cable.
Precision Cinema Progressiveâ"¢ Technology
Many other DVD players detect image changes at the Scan line level-Sony's Precision Cinema Progressive (PCP) system detects them at the Pixel level. The picture is more faithful to the source-whether film or video-because separate, optimized algorithms are used to handle the differing Pixel behavior. Separate algorithms are also used to process the moving and still parts of an image, resulting in sharp backgrounds with moving objects that are virtually free from motion artifacts.
Specs:
Impedance
8 Ohm
Channel Power Rating
120Watts X 7 Amp Power(8 ohms, 20Hz-20Khz, 0.09% THD)
Sound Fields
Cinema – 4; Music – 7; Auto Format Decoding – 14; 2 Channel – 1; Headphone – 4
Zones
3 Zone/3 Room
Tuner Type
Auto Tuning, Direct Tuning, Station Name, Presets 30/30/30 (XM/FM/AM)
S-Video Input(s)
5 (1 Front, 4 Rear)
S-Video Output(s)
3 (2 Rear/1 Monitor Out)
Composite Video Input(s)
5 (1 Front, 4 Rear)
Composite Video Output(s)
3 (Rear-1 Monitor Output, 2 Video Outputs)
Optical Audio Input(s)
5 (1 Front, 4 Rear)
Optical Audio Output(s)
2 (Rear)
Coaxial Audio Digital Input(s)
3 (Rear)
RCA Audio Input(s)
5
RCA Audio Output(s)
2
Multi-Channel Input(s)
1 (Rear, 7.1 Channel)
Subwoofer Output(s)
1 (Rear)
Antenna Terminal (AM Loop)
1 (Rear)
Antenna Terminal (FM 75 Ohm)
1 (Rear)
Headphone Output(s)
Yes (Front- Gold)
HD Component Video Input(s)
3 (Rear)
HD Component Video Output(s)
1 (Rear)
HDMIâ"¢ Connection Input(s)
6 (Rear)
HDMIâ"¢ Connection Output(s)
1 (Rear) Repeater
DIGITAL MEDIA PORT (Connector)
Yes
12V Trigger Output(s)
3
Control-S Connection(s)
Yes
RS232 Control
Yes
Infrared Port
Yes
Speaker Terminal Type
Screw Binding Posts (A & B)
Center Speaker Terminal
Yes
Power Requirements
AC 120V, 60 Hz
Power Consumption (in Operation)
480 W
Power Consumption (in Standby)
1 W
Dolby® Digital plus Decoding
Yes
Dolby® TrueHD
Yes
Digital Cinema Soundâ"¢ Technology
Yes
Dolby® Digital Decoding
Yes
Dolby® Pro Logic® II Decoding
Yes
dts® Decoding
Yes: dts® High Resolution Audio
dts® Decoding-2
Yes: dts® HD Master Audio
dts® 96/24 Decoding
Yes
dts® NEO:6 Decoding
Yes
Dolby® Digital EX Decoding
Yes
Dolby® Pro Logic® IIX Decoding
Yes
Amplification Relocation
Yes
Dolby® Pro Logic® Decoding
Yes
dts®-ES Decoding
Yes
AM/FM Memory Presets
30 FM – 30 AM
XM® Connect and Playâ"¢ Compatible
Yes
XM® Memory Presets
30
XM® Connect and Playâ"¢ Compatible-2
Neural 5.1 Surround Sound Decoding
Preset Memory
30 Sirius® Presets
A/B Speaker Switch
A / B / A+B
On Screen Display
Yes
Digital Cinema Auto Calibration
Yes (Mic- Mono)
HDMIâ"¢ Technology
Intelligent A/V Selector
Remote Control
Yes- Advanced Learning/Pre Programed
Up Scaling
Yes (HDMI Up Scaling up to 1080p)
Up Conversion
Yes (HDMI Up Conversion from Component, S-Video and Composite to 1080p)
Weight (Approx.)
34 lbs. 3 oz. (15kg)
Dimensions (Approx.)
17″ x 7″ x 17″ (430mm x171.5mm x 430mm)
Pagina oficiala o puteti gasi aici.