Well, dupa "succesul" lui Intercooler si dupa dezastruoasele efecte ale sale (alimentarea lui Intercooler fiind trasa din portul de alimentare al lui X360, cea a lui XFan fiind dintr-un port USB), iata ca a mai aparut un pretendent. Sincer, e o solutie bunicica doar pentru cei care chiar nu vor sa-si desfaca cu propriile manute consola si sa foloseasca fix-ul cu rasina epoxidica. Pagina oficiala o puteti gasi aici. Pt. cei care cauta o solutie mai fiabila (poate chiar permanenta), verificati acest thread. Read more pt. mai multe date despre XFan.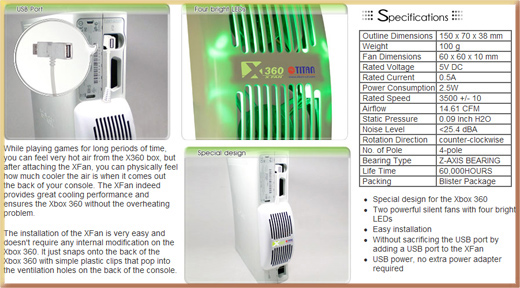 "While playing games for long periods of time, you can feel very hot air from the X360 box, but after attaching the XFan, you can physically feel how much cooler the air is when it comes out the back of your console. The XFan indeed provides great cooling performance and ensures the Xbox 360 without the overheating problem.
The installation of the XFan is very easy and doesn't require any internal modification on the Xbox 360. It just snaps onto the back of the Xbox 360 with simple plastic clips that pop into the ventilation holes on the back of the console.
The XFan is powered via the USB, but the XFan has made a pass-through port that allows you to use the USB port if needed. Also, there is no power button as this is automatically powered on once the Xbox 360 is turned on. Once attached and the Xbox 360 powered on, the fans automatically start.
Serious people, if your Xbox 360 is crashing all the time or you are worried it will start have the crashing problem soon, you will need a good cooler. The XFan will be a great choice to help you prevent this overheating problem.
Product Available: Middle of June, 2007
Model: TTC-NQ21TZ
Features:
Special design for the Xbox 360
Two powerful silent fans with four bright LEDs
Easy installation
Without sacrificing the USB port by adding a USB port to the XFan
USB power, no extra power adapter required"