This is the petition we, the romanian console gamers have just started, in hope that the oficials from Microsoft Corporation, Sony Corporation & Nintendo will really hear us and show us the same respect that the other European Union members get and give us Xbox Live, Playstation Store and Wii Shop. So, go here and sign, helping the cause! Thank you in advance! Read more to see the petition and learn about Romania.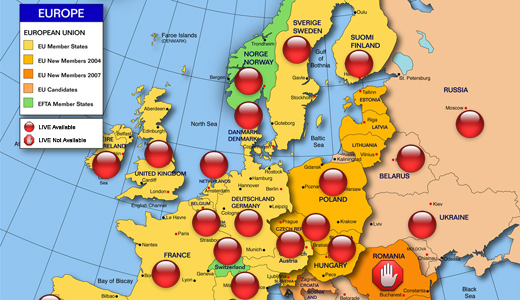 Petition: Give Romanian Gaming Community The Same Rights As The Rest European Union Members!
To: MICROSOFT CORPORATION, SONY CORPORATION, NINTENDO and EUROPEAN UNION REPRESENTATIVES
We, the ROMANIAN owners of gaming consoles, related products and services offered by MICROSOFT CORPORATION, SONY CORPORATION and NINTENDO, as full rights members of EUROPEAN UNION and users of the products and services you sold us, we kindly plead you to consider our petition for enabling full online services and support for ROMANIA. Through this document, we would like to request to be treated according to the EUROPEAN UNION laws, as equals in rights with all the other member countries where these services are available.
The products named here as MICROSOFT XBOX 360, SONY PLAYSTATION 3 and NINTENDO WII you sold us and are still selling in ROMANIA, like in any other European country, come with no warnings that the products bought have no support at all in our country. Therefore we would like to benefit from the full online services we paid for.
Dear EUROPEAN UNION REPRESENTATIVES, as members of the EUROPEAN UNION, we would like to petition for full rights as everyone else and be able to use the online services and support for the products we paid for. None of the three products named above allow us to use it online in ROMANIA, as there is no such support, although most of us have paid for a product or service that gives us one month, three months, six months or unlimited access to online services. Most of us have bought products (software and hardware) that require a connection to XBOX LIVE or PLAYSTATION STORE, which is impossible as there is no such service for ROMANIA.
Dear representatives at MICROSOFT, SONY and NINTENDO, when the products named above were launched, you promised us an experience like never seen before, with online multiplayer, online chat, online tournaments, news, downloads, updates and online support. How can we have that unbelievable experience if you don't allow us to access those services?
So, we, the ROMANIAN owners of products you sold us, kindly ask you to give us what we paid for. We ask for nothing more than what you promised when we bought your products. We honestly believe this is a win-win situation for all of us. And as a proof to you that we are not just 5 or 10 people, we will sign below.
Thank you in advance for your understanding and listening to the gaming community from ROMANIA.
Sincerely,
The Undersigned
This is the place where all started. Huge thx goes to Computer Games! And for the finals, "Who is Romania?". Well, check out the video below, it might help you find out!